smartDIE-PRO 6
6-channel die protection device with
teach-in function and graphical event
indication.
---
Functions:

Digital 6-channel tool protection system with
Teach-In function and graphic event viewer
Touch operation
Integrated user management
Tool memory for 300 tools (alphanumeric)
Data storage on USB flash drive
Monitoring types: static / dynamic
Internal + external bypass function
6 cam inputs
2 part counters (total part number + lot size)
Input for "counter stop"
Display of current number of strokes
2 separate stop outputs (emergency stop, TDC stop)

Technical data:

Supply voltage : 24 VDC (+-20%)
Current input : max. 1.5 A
Flash Memory : 4 GB
Display : 10.4″ LCD 1024×768 pixel
Touch : Resistive
Dimensions : 240 x 66 x 215 mm (WxHxD)
Weight : 2200g
Mounting : Table / wall mounting
Operating temperature: 0.. + 40 C
Storage temperature : -25..+85C

---

Features/accessories:

10.4″ touchPC
LCD display 1024×768 pixel with resistive touch
Integrated flash memory 4 GB
USB® / Ethernet® / Ethercat® port
Operating system WIN XP Emb®, real-time operating system
All ports with plug connection
Suitable for table or various wall installation methods
Anodized aluminium housing
Ultra compact: dimensions 240x215x66 mm (W/H/D)
Incl. adjustable wall bracket
USB flash drive for data storage

---

Technical data (Connection box(es))

Supply voltage : 24VDC (-15% / +20%)
Current feed : max. 4 A
Current conduction : max. 4 A
Current input : Us 120mA
Up typ. 20mA
+ Load (max. 0.5 A / output)
Channels : 8 (optional as input or output)
Output current : max. 0.5A
Short circuit current: typ. 1.5A
Dimensions : 30 x 126 x 26.5mm (WxHxD)
Weight : 165g
Operating temperature: 0..+55 C
Storage temperature : -25..+85C
---
Peripherals:
2 plug-in connections boxes for digital inputs and outputs (M8 plug), based on E-CAT® bus
Connecting cable:
Cable for power supply and bus connection 5.0m 08 M8 plugs for TPS / cams / machine signals
Press disconnect cable 5.0m
2 adapter cables M8 3 pin / M16 7 pin 0.2m
---
How it works:
The control and monitoring components in this device have been designed and manufactured according to the state-of-art microprocessor technology. The device has integrated watchdog safety-circuit.
Each sensor input can be interrogated separately. There are 6 cam inputs available for this purpose. The staic or dynamic monitoring can be programmed using touch screen. The integrated 8-digit preselect counter can be programmed according of the functions: parts per stroke and strokes per part.
---
Convenience
Cost-effective monitoring system
Can be installed quickly and easy
Fully equipped with sensor connector box and cam connector box
monitoring of several signal changes per stroke
Multistroke monitoring function
Inversion of input signals
Automatic sensor type recognition
Monitoring of sensors and cams by inherent safety function
8-digit double preselect counter
Press stop when preset number of parts reached
Teach-in mode for various monitoring functions
Error detection
Die protection function that can be bypassed
User guide via touch screen
Language selection
---
Connection diagramm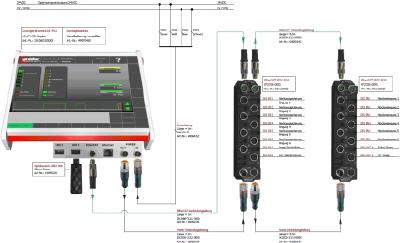 Manual in PDF format smartDIE-PRO 6_eng
---